Posted by William Taylor on on 9th Jan 2023
There are many different shapes and sizes when it comes to Scuba tanks and each one is specially designed for different divers. While divers in Hawaii might be fine on an AL80, divers in California would much prefer something made from steel. There are pros and cons to each tank choice and while Aluminum tanks are great for budget divers, we will mainly focus on steel tanks.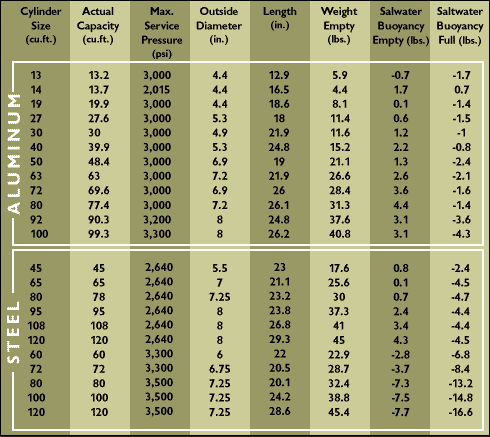 The High Pressure 100 is by far the most popular steel tank among recreational divers and is for many the perfect Scuba tank. If a diver comes into the shop looking for a steel tank the odds are they will leave with a HP100. The HP100 comes in at around 24 inches tall which is right around the height of an AL80. It weighs around 39 lbs empty and gives a -7.5 lb buoyancy in salt water while an AL80 comes in at 31 lbs and has a +4.4 lb buoyancy when empty.
The main advantage with a Steel 100 over an AL 80 is going to be the additional weight (less weight in your pocket or on your belt) and the consistently negative buoyancy the steel tank offers. On top of that you will always have more air than an AL80 even if you don't get a full fill on a boat. HP100 tanks will have 100 cf at 3443 psi, 89 cf at 3000 psi, and 77 cf @ 2640 psi so no matter how full you leave a dive shop you should still be better off than a full AL80 (otherwise ask for your money back). Both benefits will dramatically change your dive experience as you won't have to be as skilled or worried when it comes to buoyancy correction and air usage throughout your dive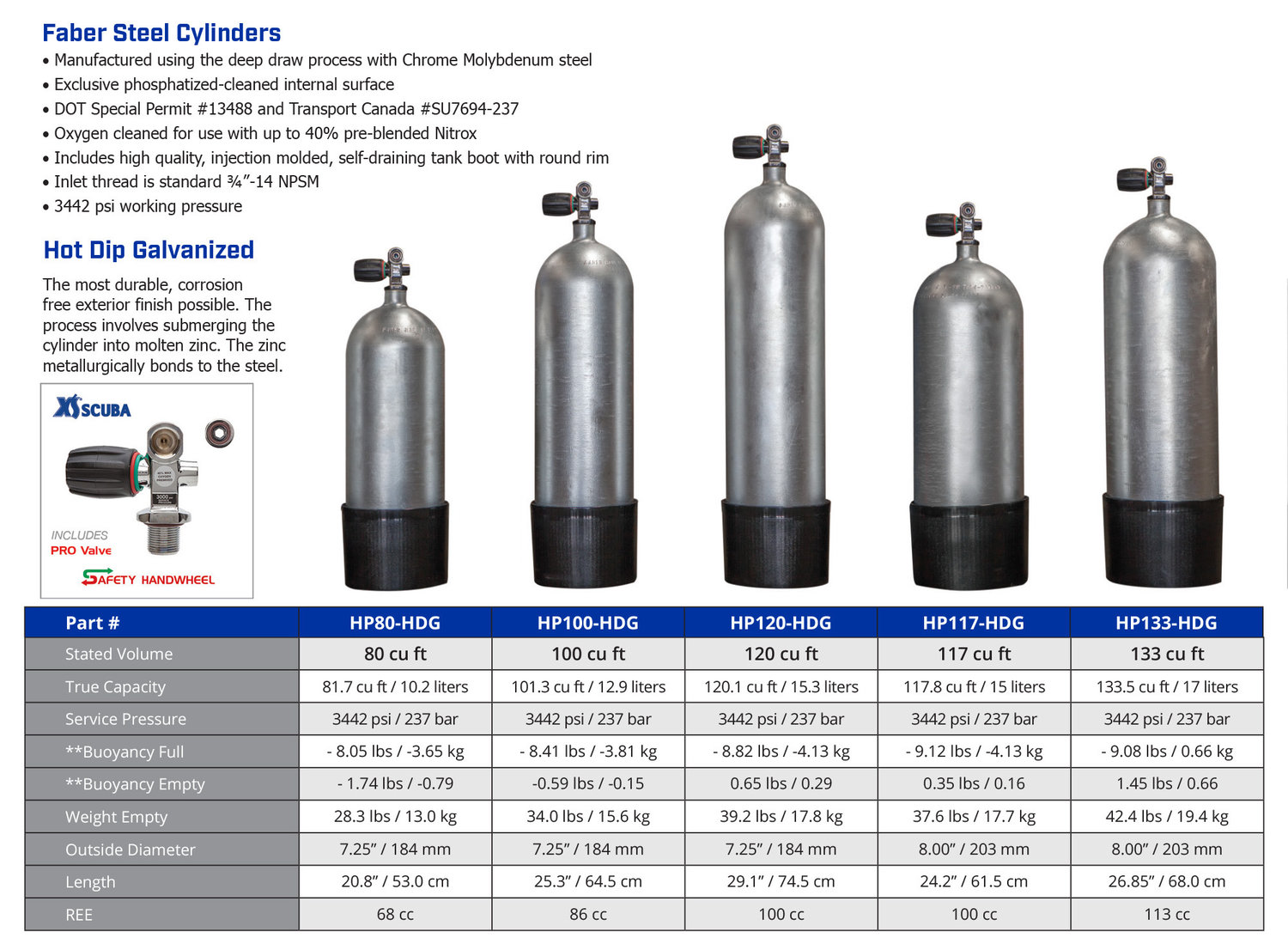 The HP80 is the next candidate on our list and is more recently gaining popularity especially in the professional scene. If you are a beginner or built big I do not recommend an HP80 for a few reasons. First thing to take into consideration is that unless you are getting your tank filled at above 3500 psi you are going to end up with only 69 cf if the boat you are filling on can only get it to 3000 psi. For experienced divers and instructors, you can get around 50 min on a full tank at around 40 feet in cold water while coming up with 1500 psi left in their tank.
The HP 80 comes in at 20 inches tall and weighs 32 pounds so just above the weight of an AL80. It still keeps a -7.3 lbs buoyancy in salt water empty and you do gain the benefits of having a consistently negative tank compared to an AL80. For shorter divers the length is perfect if you notice your head or butt banging up against the tank valve or boot on a normal sized tank. Divers have noticed better trim as your left and right movements are less restricted by the tank size and thus leading to less air consumption. The less water resistance the better for your trim. If you are a confident diver that knows your air consumption or wants to reach a point where they can dive on less air, the HP 80 is the way to go.
We have many different tanks available in our shop in Culver City. Feel free to drop by to ask questions.
Check out our website for Scuba Gear.
Call us we have daily specials on all brands of gear, we might just be having a sale at theDiveCenter.
Feel free to contact us for expert Scuba advice and we are open every day.
1-888-728-2252